In this blog, Fantasy Premier League (FPL) Gameweek 11's numbers are analysed to determine the best players and teams to target going forward.
---
xFPL review
Haaland tops the Custom Stats xFPL table for Gameweek 13 with a score of 13.4. The Norwegian international took four shots in the box (SiB), all of which were 'big chances' (BC), no player was afforded more over the weekend. Edouard (six) was top for shots, he landed just two of these attempts on target and just one was a 'big chance' which meant a low xFPL score of 6.7. Ward-Prowse topped the creativity numbers with five attempted assists, two of these were classified as BC created and he also took three shots leading to an xFPL score of 8.3. Solanke posted impressive numbers against Newcastle, the forward took four SiB, two of which were BC and also attempted three assists. His xFPL score of 10.2 was ahead of Salah who notched 9.9 with two BC.

What is xFPL?
xFPL is calculated primarily using expected goals (xG), assists (xA), which combine as Fantasy Premier League (FPL) involvements (xG + xA = xI), as well as expected clean sheets (xCS). These numbers are a result of underlying statistics (i.e. shot type and location will give a probability of scoring = xG). xFPL is the combination of these statistics and factors in appearance and bonus points to give an overall expected FPL point score.
Early Transfer Activity Analysed

As the above image from our Transfer Analytics shows, midfielders seem to be in vogue with Bowen, Palmer, Mbeumo and Salah all featuring in the top five transfers-in for Gameweek 13. This is understandable with Maddison seeing nearly 400,000 transfers out, six of the top 10 transfer combinations involve moving the England international on with Bowen (15.4%) the main beneficiary. Up top, five of the top 10 forward transfer combinations involve selling Alvarez, Haaland, Solanke, Darwin and Watkins are the popular replacements. In defence, the transfers are pretty scattered with Cash, Burn and Udogie the most popular transfers out. Saliba and Mykolenko dominate the transfers in for defenders.
Bowen vs Mbeumo

Bowen and Mbeumo both started up front for their respective clubs in Gameweek 12 and are popular transfer targets going into Gameweek 13. As the above image from our Fix Heatmaps feature shows, they have scored similarly over the last six Gameweeks with Mbeumo (38) marginally ahead of Bowen (36).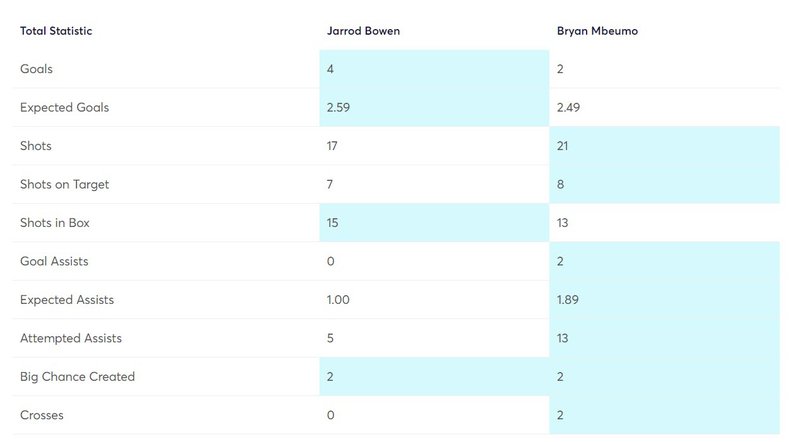 Bowen (four) has scored more goals than Mbeumo (two) but there is not much to split the two for 'Expected Goals' (xG) (2.59 vs 2.49). Mbeumo has taken more shots (17 vs 21) but more of Bowen's shots are in the box (15 vs 13). Mbeumo has the edge for creativity, he has attempted 13 assists compared to just five for Bowen and is significantly ahead for 'Expected Assists' (xA) (1.00 vs 1.89). As the below image from our Fixture Planner shows, over the next five Gameweeks Brentford do have better fixtures but they will have a blank in Gameweek 18 due to their opponent Man. City's participation in the Club World Cup.